2. Day – Symi – Rasmus altes Rübenschein
We woke up at 6 AM to golden sky; no one once again is well slept. We set #sail with strong winds of 25 knots and as an old tradition, we greeted and blessed #Rasmus, the wind God, who clearly was not impressed as the wind suddenly picked up. At a certain point the boat heeled over so far that the rails went and caressed the water and we all enjoyed the thrill and roller coaster ride, trusting Andreas, Angelica, and Millena to save our sails and our souls. After some time, we crossed from #Europe to #Asia as we entered the Turkish waters and finally escaped the rough of Rasmus who clearly couldn't follow us into across the border as the sea immediately calmed as we entered Turkish waters. We sunbathed on the deck with #Turkey on one side and #Greece on the other, and spent time staring out into the deep blue horizon and caught some quiet breaths for our thoughts.
At around noon, we arrived at the scenic island of #Symi, home of the sea sponge. We refreshed with snacks and headed off to cool off at a nearby beach; no treasure was spotted but we did see some curious fish playing in the pebbles. After Frappe round 2, we finally started off our first panel discussion from Abbas.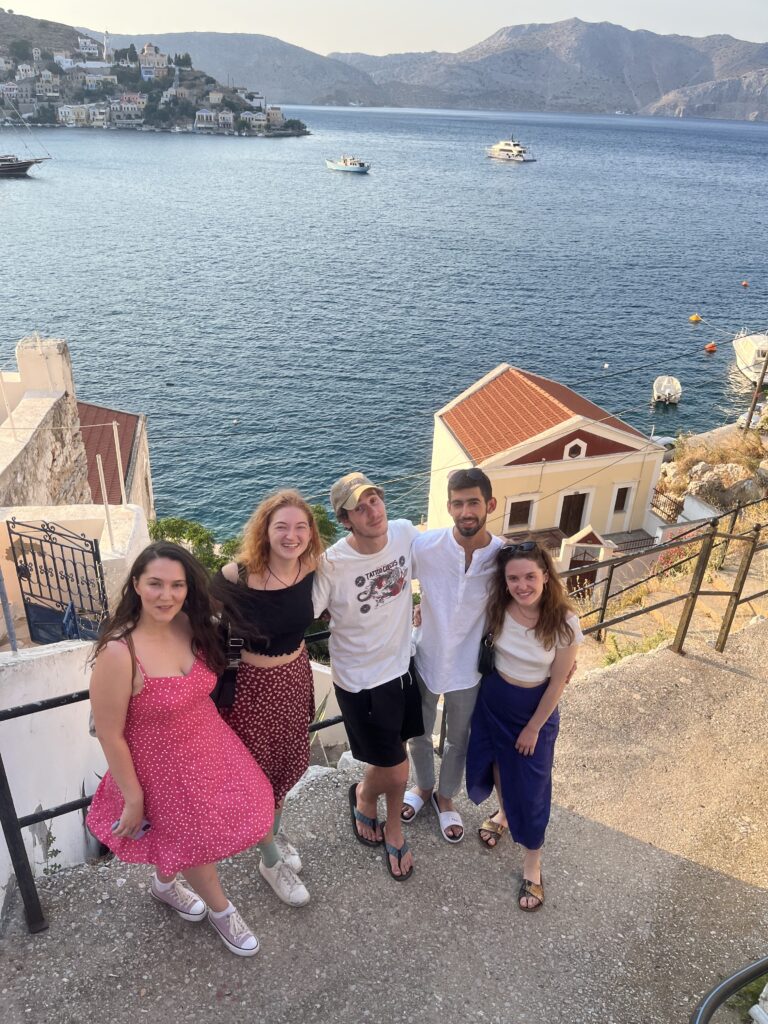 He talked about the influence of #religion in our life and on our mental health and the lack thereof. All of us coming with different, but in many ways similar, experiences of religion reflected on its relation to belonging, sense of #community, and the fundamental loneliness of the more modern days. It was a tough and interesting discussion that left us with much more to think and talk about.
With our brains folding, we then had to choose from the venn diagram of personal time: pick
a) being clean
b) catching up with friends or family
c) take a nap
or d) exploring city.
We then swapped deep topics we even deeper "would you rather" at the dinner with a view – so far the best – and are ready to rinse and repeat and hopefully sleep before our early start tomorrow.
Allons-y