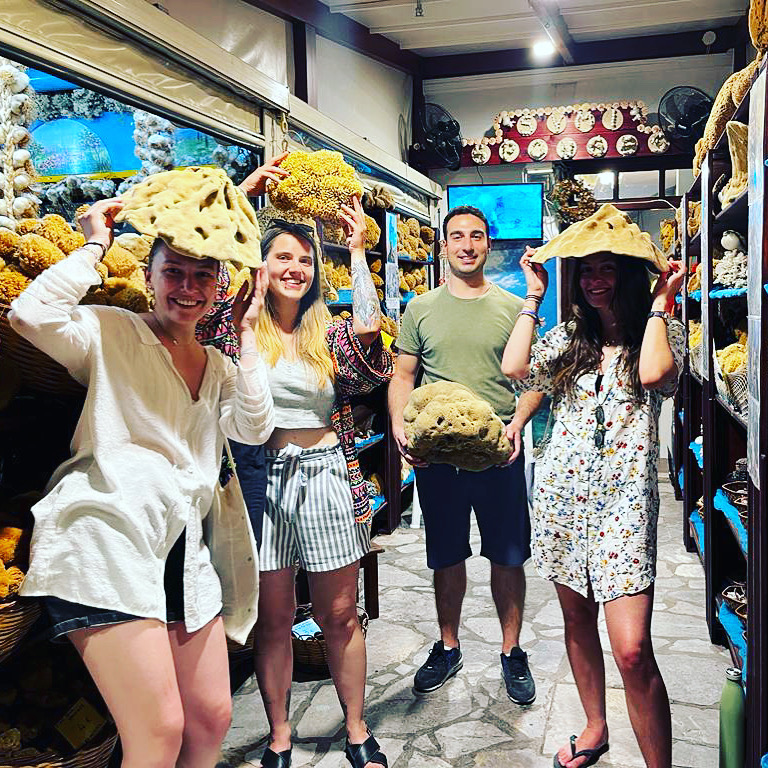 We stayed one more day in Symi because the wind wasn't good today for sailing. We decided to take a walk up the mountain and to the other side of the island, to a quieter and smaller bay. we were boiling as we walked in the heat under the sun, but the water was super clear and colder than in the main harbor.
between swims, we talked about our experiences changing our environments, whether it's possible to change other people, and what we would like to change in ourselves. we decided that it's not possible to change other people by telling them what to do or trying to force them to be different, but rather by setting the example by just doing what we feel is right.
While walking back to the boat, a few of us stopped at a sponge store (sponge harvesting is the island's historic specialty) where we had a very interesting conversation with the sponge salesman named Panaiodis. at the first impression, he was just that: a sponge seller trying to make money from tourists by explaining us the history of sponges and how they're harvested. did you know that sponge is an animal? it also comes out of the sea black because of plankton, and traditionally divers would stomp on them inside of baskets to clean them and get the typical yellow color.
Panaiodis was very friendly so we kept talking to him, and he told us that his other job (among many) is as a mechanical engineer trying to lead the way for Symi to become an "energy democracy" by building the islands first renewable energy system. his plan is to build a wind mill farm on top of the mountain, which would pump sea water up to be used to produce hydroelectric energy. his plan would allow the island to use 100% renewable energy and be completely independent from fossil fuels. this is already being reviewed by the government after years of work, and he hopes to have it implemented in the next four years.
it was amazing to see that there are people who are so #energetic and #passionate about making change on the island. from what he says it seems that despite beaurocratic issues there are more and more people and politicians becoming invested in the energy transition in #Greece. hopefully, the idea of this one person and the changes he is pushing for on this small island will set an example for other islands around the world on how to become an "energy democracy".
P.S. tip for future sailors on Symi island: go to Symi Breeze sponge store to visit Panaiodis and ask him how his project is working out!